Visiting any church, especially a larger one, for the very first time can bring about questions. Well, we want to put you at ease. Your first visit to Volusia County Baptist Church will be refreshing, friendly, and enjoyable for your whole family. Come and experience for yourself what God is doing here!
SERVICES
View Our Service Times
Sunday School 9:00 a.m.
Bible study is a core need in every believer's life. People in every age bracket benefit from small group discussion and class involvement in our Sunday School classes. Children, teens and adults are invited to connect with others in a class designed specifically for their needs.
Sunday Worship 10:00 a.m.
Our Sunday morning worship services are lively and inspiring. However our goal is not to merely entertain. Our style of music is traditional and exciting. Congregational praise to the Lord is accompanied by our church choir and full orchestra. Special vocal or instrumental music is always a heart-felt blessing. The preaching and teaching pulpit ministry is relevant to the needs of people and consistently Bible-based. Children are invited to try our Junior Church where they enjoy the Word of God presented at their level by loving leaders.
Sunday Evening 6:00 p.m.
Sunday nights are some of the sweetest services of the week. While the gospel of Jesus Christ is paramount in every service, Sunday evenings help believers to strengthen their walk with the Lord and make their faith practical for daily life.
Thursday Evening 7:00 p.m.
Thursday nights at VCBC are wonderfully unpredictable. Children have fun activities during Children's Music Academy. This program has been a highlight for the children as they gain the opportunity to learn new instruments and use them for the Lord. Teenagers enjoy their own action-packed youth services led by Pastor Tim Siers. He targets the teen Bible studies at the needs of young people and packages it with youth choruses and a game to provide great fellowship among the teens. The auditorium Bible study and prayer service often comes laced with LIVE Skype teleconference reports from the mission field, guest preachers, special music and always in-depth Bible teaching.
DIRECTIONS
261 S. Orange Ave • Orange City, FL 32763 • 386-774-0181
Volusia County Baptist Church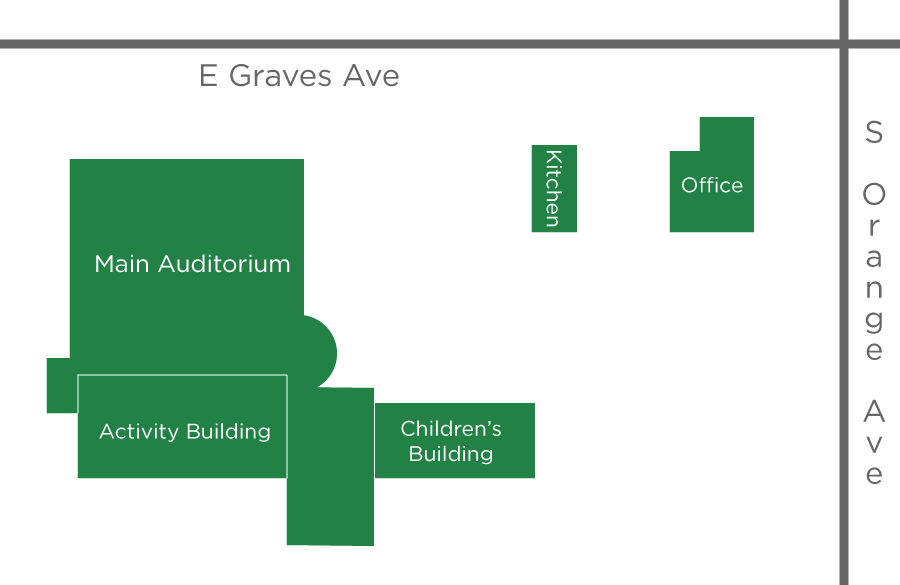 FROM DELTONA
Travel northwest on Howland Boulevard toward I-4. Just before you get to I-4, turn LEFT on Graves Avenue at the stoplight toward Orange City. Follow Graves Avenue 2.5 miles and turn LEFT on Orange Avenue and you will see the church on the right.
FROM DEBARY
Travel north on 17-92 toward Orange City. Follow 17-92 and turn RIGHT on Graves Avenue. Go 0.5 miles on Graves Avenue and turn RIGHT on Orange Avenue and you will see the church on the right.
FROM DELAND
Travel north on 17-92 toward Orange City. Follow 17-92 and turn LEFT on Graves Avenue. Go 0.5 miles on Graves Avenue and turn RIGHT on Orange Avenue and you will see the church on the right.
FREQUENTLY ASKED QUESTIONS
How Should I Dress?
There is not a dress code at Volusia County Baptist Church for members or guests. Our ministry leaders and many of our church family dress in more traditional "Sunday" dress; however, our main goal is that you would feel welcome and comfortable on your visit here at the Home Place!
Where Do I Take My Children?
Starting with excellent nurseries, there is something special for every age child. At every service there are safe, clean, and highly staffed nurseries for children three years old and under. For the infants, mothers will receive a pager so that the nursery attendants can easily contact you if there is a need. For children four years old through sixth grade there are fun, friendly, and Bible-centered classes. These classes are staffed with trained, friendly, and well-qualified teachers and helpers who will make church exciting and memorable for your child. Our greeters and ushers are located around campus as well as in the lobby of the main worship center and will gladly help direct and even escort you to the right place.
What About My Teens?
Our youth ministries include teenagers and college and career age young people. We have Sunday school classes for teen guys and teen girls as well as a college career class. The young people attend their class at 9:00 a.m. and then a family worship service at 10:00 a.m. During the week there are many opportunities for Bible study and activities for teens.
Am I Expected to Give Money?
No. We don't invite you to our church for your offering. We want our service to be a gift to you. We hope you will find a warm family spirit, truth from God's Word, and a place where you can grow in God's grace. Please don't feel any obligation to participate in the offering as a guest.